Articles | Volume 1, issue 1
https://doi.org/10.5194/mr-1-75-2020
© Author(s) 2020. This work is distributed under
the Creative Commons Attribution 4.0 License.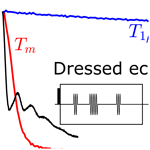 Distance measurement between trityl radicals by pulse dressed electron paramagnetic resonance with phase modulation
Distance measurement in the nanometre range is among the most important applications of pulse electron paramagnetic resonance today, especially in biological applications. The longest distance that can be measured by all presently used pulse sequences is determined by the phase memory time Tm of the observed spins. Here we show that one can measure the dipolar coupling during strong microwave irradiation by using an appropriate frequency- or phase-modulation scheme, i.e. by applying pulse sequences in the nutating frame. This decouples the electron spins from the surrounding nuclear spins and thus leads to significantly longer relaxation times of the microwave-dressed spins (i.e. the rotating frame relaxation times T1ρ and T2ρ) compared to Tm. The electron–electron dipolar coupling is not decoupled as long as both spins are excited, which can be implemented for trityl radicals at Q-band frequencies (35 GHz, 1.2 T). We show results for two bis-trityl rulers with inter-electron distances of about 4.1 and 5.3 nm and discuss technical challenges and possible next steps.
Received: 17 Mar 2020 – Discussion started: 19 Mar 2020 – Revised: 22 Apr 2020 – Accepted: 29 Apr 2020 – Published: 15 May 2020
Pulsed dipolar electron paramagnetic resonance (EPR) spectroscopy emerged as a powerful tool to measure distance distributions between electron spins in the nanometre range (Jeschke, 2012). This information is particularly useful when studying molecules and molecule assemblies that are intrinsically disordered or partially disordered or otherwise hard to crystallize and difficult to study with NMR or cryo-EM alone, e.g. certain membrane proteins (Bordignon and Bleicken, 2018) or protein-RNA complexes (Duss et al., 2014). The distance information is encoded in the magnetic dipole–dipole coupling between the electron spins, which depends on the inverse cubed distance, r−3. A plethora of different techniques have been introduced, most notably double electron–electron resonance (DEER) (Milov et al., 1984; Pannier et al., 2000), double quantum coherence (DQC) (Borbat and Freed, 1999), the single frequency for refocusing (SIFTER) (Jeschke et al., 2000), and relaxation-induced dipolar modulation enhancement (RIDME) (Kulik et al., 2001; Milikisyants et al., 2009). The limiting factor for all these pulse sequences is the electron phase memory time Tm, which determines the maximal dipolar evolution time and thus the longest distance that can be measured. In many cases, the phase memory time can be prolonged by deuterating the solvent or even the whole protein (Georgieva et al., 2010; Ward et al., 2010; Schmidt et al., 2016). However, such an approach is costly and is rarely feasible; e.g. it is very difficult for membrane proteins in a lipid bilayer and impossible for in-cell work.
In recent years, several groups tried to use dynamical decoupling sequences based on multiple refocusing pulses (also known as Carr–Purcell sequences) in order to prolong the coherence times (Borbat et al., 2013; Spindler et al., 2015). Although shaped pulses significantly improved the fidelity of EPR experiments, pulse frequency band overlap and non-uniform inversion are still a problem in these sequences and can lead to artifacts, which may be corrected if traces with sufficient signal-to-noise ratio and only moderately decaying background can be acquired (Breitgoff et al., 2017). Nevertheless, the improvements in Tm so far are of the order of a factor of 2, which only marginally (though sometimes decisively) improves the longest attainable distance.
Recently, a sequence based on spin diffusion, which would be limited by Tl rather than Tm, was proposed (Blank, 2017). This experiment is still waiting for experimental verification.
Here we propose a sequence where the longest dipolar evolution time is, in principle, limited by the rotating frame relaxation time T2ρ, which is often much longer than Tm (for a discussion of T2ρ vs. the more familiar T1ρ, vide infra). The complete dipolar evolution takes place during strong microwave irradiation. This decouples the electron spins from the surrounding nuclei (Jeschke and Schweiger, 1997) while the electron–electron coupling is still active. The spin manipulation during the strong microwave irradiation is achieved by short intervals of sinusoidal phase modulation. The frequency of this modulation needs to match the Rabi or nutation frequency of the spin-locking irradiation.
The latter approach was discovered more than once in the history of magnetic resonance. It traces back to investigations of Redfield on "rotary saturation" (Redfield, 1955). Hoult introduced the related idea of longitudinal field modulation for nutation frequency selective pulses to magnetic resonance imaging (MRI) (Hoult, 1979). Grzesiek and Bax picked up Hoult's idea but used a phase-modulation scheme instead and applied it to homonuclear mixing in solution-state NMR (Grzesiek and Bax, 1995). They termed the technique "Audio-frequency NMR in a nutating frame", because their phase-modulation (PM) frequency is in the audible range, and the pulse sequences effectively take place in a frame that nutates with the Rabi frequency of the spin lock. Independently, Jeschke used longitudinal field modulation during a spin lock for pulse EPR (Jeschke, 1999) and used the term "dressed EPR", because the spins are dressed by the microwave field during the spin lock. This term is borrowed from quantum optics (Cohen-Tannoudji et al., 1992). The idea of dressed EPR originated in artifacts in hyperfine-decoupled electron–nuclear double resonance (ENDOR) spectra, which appear if the radio-frequency coil is not aligned perfectly perpendicular to the static field (Jeschke and Schweiger, 1997). Much later, it was also realized that field modulation should also prolong Rabi oscillations in the presence of inhomogeneous microwave fields (Saiko et al., 2018). Recently, the quantum information processing community picked up the idea of dressing electron spins in order to prolong coherence times (Laucht et al., 2016, 2017; Cohen et al., 2017). During the writing of this paper, Chen and Tycko came up with the idea of phase modulation during a spin lock independently again and used it for slice selection during off-resonance spin locks in solid-state, DNP-enhanced MRI (Chen and Tycko, 2020).
Here we combine the ideas of applying pulse sequences to dressed spins (Grzesiek and Bax, 1995; Jeschke, 1999) with the one of prolonging coherence times as a means of improving distance distribution resolution or prolonging distance range in pulsed dipolar EPR spectroscopy. To test the method, we used two bis-trityl rulers in which two trityl radicals are connected by a rather stiff linker. Linker length and residual flexibility are known (Godt et al., 2006; Jeschke et al., 2010). The chosen trityl radical is structurally closely related to the Finland trityl radical and has similar EPR spectroscopic properties (Hintz et al., 2019). The narrow EPR spectrum of the used trityl radical makes it particularly amenable to single-frequency techniques for measurements of the dipole–dipole coupling (Reginsson et al., 2012) in a regime that is analogous to the one of homonuclear NMR experiments. Note that the sequence presented in this work relies on the narrow spectrum of the trityl radicals. We do not expect it to work with the much more commonly used nitroxide radicals.
The article is organized as follows: first, we review mathematically, in the language of the magnetic resonance community, what happens to all the interactions in the spin Hamiltonian if we apply a strong microwave field. In order to do this, we will introduce a nutating frame description. Then we explain how an appropriate phase-modulation scheme leads to "pulses" in the nutating frame. In the results section we show the synthesis of the bis-trityl rulers and present the application of a dressed-spin echo experiment to such rulers to measure the dipolar coupling between two trityl radicals.
We use the following convention for operators: no prime refers to the laboratory frame and one prime to the electron-spin rotating frame, i.e. the interaction frame with the Zeeman Hamiltonian of the electrons. Two primes refer to the nutating frame, which is obtained with an additional interaction frame transformation with the pulse Hamiltonian. We will usually only denote the Hamiltonian with primes and not all operators. If we mention axes in the text, we will explicitly use the primes, but we will omit them in mathematical formulas.
All measurements were performed on a home-built Q-band spectrometer equipped with a Keysight M8190A arbitrary waveform generator operating at 8 GS s−1 and an ADC with a sampling frequency of 2 GHz (SP Devices ADQ412) (Doll, 2016). The highly flexible software made it straightforward to implement the pulse sequences with PM pulses, in contrast to commercial analogues. Microwave pulses were amplified with a travelling wave tube (TWT) amplifier with 150 W nominal output power (Applied Systems Engineering). A home-built Q-band loop-gap resonator for 1.6 mm tubes was used (Tschaggelar et al., 2017). Note that the long spin-lock pulses with full power can be dangerous for the receiver, since much of the power is reflected by the overcoupled resonator. We did not take any special measures beyond the receiver protection switch (Doll and Jeschke, 2017). However, we are planning to install an additional limiter or a slow switch that could take more power. Since the spin-lock pulses are rather long, a slow switch could be used for most of the time, while the fast switch could be used for the transient times of the pulses to still provide the small dead time.
As model compounds, we used bis-trityl rulers with electron–electron distances of about 4.1 and 5.3 nm. The synthesis is discussed in Sect. 4.1. The bis-trityl rulers were dissolved in ortho-terphenyl (OTP) or its perdeuterated analogue dOTP providing solutions of different concentrations. More details are given in each figure and the Supplement.
Measurements were conducted at 50 K using a liquid helium flow cryostat. We did not systematically test the optimal temperature for each measurement. However, it is likely that higher temperatures would allow for shorter shot repetition times without dramatically changing the dephasing times.
Frequency-domain spectra were measured with chirp echoes and subsequent Fourier transform instead of field sweeps (Doll and Jeschke, 2014). Chirp pulses covered a range of 300 MHz symmetrically around the centre of the spectrum. The powder spectrum was simulated with the EasySpin library (Stoll and Schweiger, 2006).
The two-pulse dephasing time Tm was measured with a sequence echo with tπ=2tπ. Different pulse lengths were used to check whether instantaneous diffusion contributes to coherence loss. Similarly to previous findings by Meyer et al. (2018), it was found that flip angles of π∕2 or 3π∕2 for the second pulse gave higher echo intensities than an angle of π. More details are given in the Supplement.
The rotating frame relaxation time T1ρ was measured with the sequence in Fig. 1 in the absence of any phase-modulation pulses and variable TSL and with τSL=200 ns. Interestingly, T1ρ is significantly different when measured with a simple spin-locked echo with the sequence lock echo. More details are given in the results section and the Supplement.
The rotating frame relaxation time T2ρ for the mono-trityl was measured with the sequence in Fig. 1 including the phase-modulation pulses and fixed TSL and with τSL=200 ns. In the case of the bis-trityls, it is impossible to measure T2ρ independently of the dipolar coupling. Where applicable, we mention the decay rate of the "intramolecular background" for comparison.
All decay rates were obtained by fitting a stretched exponential of the functional form
to the relaxation curves, where t=2τ and T=Tm for the two-pulse echo decay, t=2τ1 and T=T2ρ for dressed echo decays, and t=TSL and T=T1ρ for the longitudinal rotating frame relaxation time.
The Rabi frequency ω1 was measured with a nutation experiment echo. As a control, we performed a dressed-spin resonance experiment with the sequence in Fig. (4) but only one PM pulse with low amplitude and variable frequency. This also yields the ω1 spectrum (see the Supplement). A similar experiment with z modulation was demonstrated in Jeschke (1999).
When the Rabi spectrum is known, one can set the value of the PM frequency ωPM. One then needs to choose a value for the modulation amplitude aPM and set up the PM pulse lengths. This can be achieved with a PM nutation experiment. Again, one uses the basic sequence in Fig. 1, with one pulse only with now fixed ωPM. One then observes the echo intensity as a function of the PM pulse length. That way the optimal PM pulse length can be determined. When choosing aPM=0.3, we observed only slight Bloch–Siegert shift-related oscillations in the PM pulse nutation traces while achieving a PM π-pulse length of 40–42 ns.
The dressed echo cannot be detected directly, because τ1 and τ2 are both indirect variables. Only the actual echo at the end of the microwave pulse sequence is digitized continuously. In order to optimize indirect detection, we checked that the last PM pulse in Fig. 1 is applied at the correct position. We observed that the position seems to be nearly perfectly predictable by setting , where tπ∕2 refers to the length of the PM-π∕2 pulse. We observed crossing dressed-spin echoes when changing interpulse delays in the PM pulse sequence, similar to what is known in microwave multi-pulse sequences in pulse EPR. Interestingly, the position of some unwanted echoes depends on the choice of τ0. Nevertheless, all these unwanted echoes can be suppressed by phase cycling the initial phases ϕPM of the PM pulses, ϕ2−4.
A step-by-step guide to setting up the sequence is provided in the Supplement.
5
 Conclusions and outlook
We showed that it is possible to measure the dipolar coupling between trityl radicals during a spin lock by using short intervals of phase modulations, i.e. by a dressed-spin echo generated with PM pulses. The relaxation during the spin lock is much slower compared to a simple two-pulse echo decay. The phenomena can be conceptually understood by describing the spin lock in a nutating frame and using average Hamiltonian theory. For an electron–electron distance of ≈4.1 nm, the experimental spectra agree very well with the theoretical expectations that assume a microwave Rabi frequency much larger than all other interactions in the system. For a distance of ≈5.3 nm, additional singularities appear in the dipolar spectrum. While the spin dynamics underlying these additional contributions can be understood by numerical simulations, they might seriously complicate data analysis in terms of distance distributions and have to be addressed in the future if the sequence should be used in application work. Additionally, we showed a profound difference between the longitudinal and transverse rotating frame relaxation times, T1ρ and T2ρ. In our case, the latter is much smaller than the former and unfortunately limits the distance measurements by the sequence introduced here. Preliminary results with the OX063 trityl and its partially deuterated analogue OX71 in different solvent compositions (not shown) revealed that even bare-spin relaxation at low temperatures and low concentrations is complicated to understand, let alone dressed-spin relaxation with characteristic times T2ρ and T1ρ. We are planning to investigate this in more detail and to compare the different relaxation times also at different temperatures. Note that in dOTP, the Tm values of the slow relaxing component of nitroxides (the relaxation of nitroxides in dOTP can be described by a sum of two stretched exponentials) can still be bigger than the T2ρ times measured here for trityl radicals (Soetbeer et al., 2018).
Since there are still significant artifacts present in the dipolar spectra when measuring longer distances, we refrained from a systematic analysis of signal-to-noise ratio and a comparison with existing pulse sequences.
Nevertheless, we are confident that the presented obstacles can be overcome. First, it might very well be possible to come up with a dressed pulse sequence that measures the dipolar coupling with an observation time limited by T1ρ instead of T2ρ. This appears feasible because, unlike the sum of dressed-spin polarizations of the two spins, their difference is affected by dipolar coupling. This fact is used in cross-polarization in solid-state NMR and oscillatory behaviour of magnetization transfer in the rotating frame has been studied in the context of heteronuclear correlation spectroscopy (Müller and Ernst, 1979). Second, the ratio of Rabi frequency to offsets could be reduced by going to a lower field. While in principle we could have done the experiments at X-band frequencies, our TWT in this range can only generate pulses of up to 15 µs. The Rabi frequencies generated by our setup are already rather high (≈100 MHz compared to ≈50 MHz in most commercial setups), but several groups around the world are working on micro resonators (Anders and Lips, 2019; Sidabras et al., 2019; Narkowicz et al., 2008; Blank et al., 2017), which generally give higher conversion factors and could be used to generate higher Rabi frequencies. If these difficulties can be overcome, pulse dressed electron paramagnetic resonance could significantly expand the measurable distance range, at least for trityl radicals.
Code and data availability
NW designed the research with input from GJ. HH synthesized the bis-trityl rulers under the supervision of AG. NW carried out all measurements, data analysis, and simulations with help from AV. The EPR part of the manuscript was written by NW and edited by GJ and AG. The synthetic part was written by HH and AG.
The authors declare that they have no conflict of interest.
We thank Lukas Schreder, who carried out a research project in a very independent manner and sparked NW's interest in dressed electron spin resonance. We thank Jan Henrik Ardankjær-Larsen for providing OX063 and OX071 for preliminary relaxation studies. Matthias Ernst is acknowledged for helpful discussions and critically reading the theoretical part of the article.
This research has been supported by the ETH Zürich (grant no. ETH-48 16-1) and the Deutsche Forschungsgemeinschaft (SPP 1601 (grant no. GO 555/6-2)).
This paper was edited by Robert Bittl and reviewed by Thomas Prisner and Jack H. Freed.
Anders, J. and Lips, K.: MR to go, J. Magn. Reson., 306, 118–123, https://doi.org/10.1016/j.jmr.2019.07.007, 2019. a
Blank, A.: A new approach to distance measurements between two spin labels in the >10 nm range, Phys. Chem. Chem. Phys., 19, 5222–5229, https://doi.org/10.1039/C6CP07597E, 2017. a
Blank, A., Twig, Y., and Ishay, Y.: Recent trends in high spin sensitivity magnetic resonance, J. Magn. Reson., 280, 20–29, https://doi.org/10.1016/j.jmr.2017.02.019, 2017. a
Borbat, P. P. and Freed, J. H.: Multiple-quantum ESR and distance measurements, Chem. Phys. Lett., 313, 145–154, https://doi.org/10.1016/S0009-2614(99)00972-0, 1999. a
Borbat, P. P., Georgieva, E. R., and Freed, J. H.: Improved sensitivity for long-distance measurements in biomolecules: Five-pulse double electron-electron resonance, J. Phys. Chem. Lett., 4, 170–175, https://doi.org/10.1021/jz301788n, 2013. a
Bordignon, E. and Bleicken, S.: New limits of sensitivity of site-directed spin labeling electron paramagnetic resonance for membrane proteins, BBA-Biomembranes, 1860, 841–853, https://doi.org/10.1016/j.bbamem.2017.12.009, 2018. a
Breitgoff, F. D., Soetbeer, J., Doll, A., Jeschke, G., and Polyhach, Y. O.: Artefact suppression in 5-pulse double electron electron resonance for distance distribution measurements, Phys. Chem. Chem. Phys., 19, 15766–15779, https://doi.org/10.1039/C7CP01488K, 2017. a
Brown, I. M.: Electron spin-echo studies of relaxation processes in molecular solids, in: Time Domain Electron Spin Resonance, edited by: Kevan, L. and Schwartz, R., John Wiley and Sons, Inc, New York, p. 200, 1979. a
Chen, H.-Y. and Tycko, R.: Slice Selection in Low-Temperature, DNP-Enhanced Magnetic Resonance Imaging by Lee-Goldburg Spin-Locking and Phase Modulation, J. Magn. Reson., 313, 106715, https://doi.org/10.1016/j.jmr.2020.106715, 2020. a
Cohen, I., Aharon, N., and Retzker, A.: Continuous dynamical decoupling utilizing time-dependent detuning, Fortschr. Physik, 65, 1600071, https://doi.org/10.1002/prop.201600071, 2017. a, b
Cohen-Tannoudji, C., Dupont-Roc, J., and Grynberg, G.: Atom-Photon Interactions, Wiley-VCH, Berlin, 1992. a
Doll, A.: Frequency-Swept Microwave Pulses for Electron Spin Resonance, PhD thesis, ETH Zurich, https://doi.org/10.3929/ethz-a-010670425, 2016. a
Doll, A. and Jeschke, G.: Fourier-transform electron spin resonance with bandwidth-compensated chirp pulses, J. Magn. Reson., 246, 18–26, https://doi.org/10.1016/j.jmr.2014.06.016, 2014. a
Doll, A. and Jeschke, G.: Wideband frequency-swept excitation in pulsed EPR spectroscopy, J. Magn. Reson., 280, 46–62, https://doi.org/10.1016/j.jmr.2017.01.004, 2017. a
Duss, O., Yulikov, M., Jeschke, G., and Allain, F. H.-T.: EPR-aided approach for solution structure determination of large RNAs or protein-RNA complexes, Nat. Commun., 5, 3669, https://doi.org/10.1038/ncomms4669, 2014. a
Ernst, M.: Heteronuclear spin decoupling in solid-state NMR under magic-angle sample spinning, J. Magn. Reson., 162, 34 pp., https://doi.org/10.1016/S1090-7807(03)00074-0, 2003. a
Georgieva, E. R., Ramlall, T. F., Borbat, P. P., Freed, J. H., and Eliezer, D.: The Lipid-binding Domain of Wild Type and Mutant a-Synuclein, J. Biol. Chem., 285, 28261–28274, https://doi.org/10.1074/jbc.m110.157214, 2010. a
Godt, A., Schulte, M., Zimmermann, H., and Jeschke, G.: How Flexible Are Poly(para-phenyleneethynylene)s?, Angew. Chem. Int. Edit., 45, 7560–7564, https://doi.org/10.1002/anie.200602807, 2006. a, b
Grzesiek, S. and Bax, A.: Audio-Frequency NMR in a Nutating Frame. Application to the Assignment of Phenylalanine Residues in Isotopically Enriched Proteins, J. Am. Chem. Soc., 117, 6527–6531, https://doi.org/10.1021/ja00129a016, 1995. a, b, c, d, e
Hintz, H., Vanas, A., Klose, D., Jeschke, G., and Godt, A.: Trityl Radicals with a Combination of the Orthogonal Functional Groups Ethyne and Carboxyl: Synthesis without a Statistical Step and EPR Characterization, J. Org. Chem., 84, 3304–3320, https://doi.org/10.1021/acs.joc.8b03234, 2019. a, b
Hoult, D. I.: Rotating frame zeugmatography, J. Magn. Reson., 33, 183–197, https://doi.org/10.1016/0022-2364(79)90202-6, 1979. a
Jeschke, G.: Coherent superposition of dressed spin states and pulse dressed electron spin resonance, Chem. Phys. Lett., 301, 524–530, https://doi.org/10.1016/S0009-2614(99)00041-X, 1999. a, b, c, d, e, f
Jeschke, G.: DEER Distance Measurements on Proteins, Annu. Rev. Phys. Chem., 63, 419–46, https://doi.org/10.1146/annurev-physchem-032511-143716, 2012. a
Jeschke, G. and Schweiger, A.: Hyperfine decoupling in electron spin resonance, J. Chem. Phys., 106, 9979–9991, https://doi.org/10.1063/1.474073, 1997. a, b, c
Jeschke, G., Pannier, M., Godt, A., and Spiess, H.: Dipolar spectroscopy and spin alignment in electron paramagnetic resonance, Chem. Phys. Lett., 331, 243–252, https://doi.org/10.1016/S0009-2614(00)01171-4, 2000. a
Jeschke, G., Sajid, M., Schulte, M., Ramezanian, N., Volkov, A., Zimmermann, H., and Godt, A.: Flexibility of shape-persistent molecular building blocks composed of p-phenylene and ethynylene units, J. Am. Chem. Soc., 132, 10107–10117, https://doi.org/10.1021/ja102983b, 2010. a, b
Klauder, J. R. and Anderson, P. W.: Spectral Diffusion Decay in Spin Resonance Experiments, Phys. Rev., 125, 912–932, https://doi.org/10.1103/PhysRev.125.912, 1962. a
Kulik, L. V., Dzuba, S. A., Grigoryev, I. A., and Tsvetkov, Y. D.: Electron dipole-dipole interaction in ESEEM of nitroxide biradicals, Chem. Phys. Lett., 343, 315–324, https://doi.org/10.1016/S0009-2614(01)00721-7, 2001. a
Laucht, A., Simmons, S., Kalra, R., Tosi, G., Dehollain, J. P., Muhonen, J. T., Freer, S., Hudson, F. E., Itoh, K. M., Jamieson, D. N., McCallum, J. C., Dzurak, A. S., and Morello, A.: Breaking the rotating wave approximation for a strongly driven dressed single-electron spin, Phys. Rev. B, 94, 1–5, https://doi.org/10.1103/PhysRevB.94.161302, 2016. a, b
Laucht, A., Kalra, R., Simmons, S., Dehollain, J. P., Muhonen, J. T., Mohiyaddin, F. A., Freer, S., Hudson, F. E., Itoh, K. M., Jamieson, D. N., McCallum, J. C., Dzurak, A. S., and Morello, A.: A dressed spin qubit in silicon, Nat. Nanotechnol., 12, 61–66, https://doi.org/10.1038/nnano.2016.178, 2017. a
Meyer, A., Jassoy, J. J., Spicher, S., Berndhäuser, A., and Schiemann, O.: Performance of PELDOR, RIDME, SIFTER, and DQC in measuring distances in trityl based bi- and triradicals: Exchange coupling, pseudosecular coupling and multi-spin effects, Phys. Chem. Chem. Phys., 20, 13858–13869, https://doi.org/10.1039/c8cp01276h, 2018. a, b
Michaeli, S., Sorce, D. J., Idiyatullin, D., Ugurbil, K., and Garwood, M.: Transverse relaxation in the rotating frame induced by chemical exchange, J. Magn. Reson., 169, 293–299, https://doi.org/10.1016/j.jmr.2004.05.010, 2004. a
Milikisyants, S., Scarpelli, F., Finiguerra, M. G., Ubbink, M., and Huber, M.: A pulsed EPR method to determine distances between paramagnetic centers with strong spectral anisotropy and radicals: The dead-time free RIDME sequence, J. Magn. Reson., 201, 48–56, https://doi.org/10.1016/j.jmr.2009.08.008, 2009. a
Milov, A. D., Ponomarev, A. B., and Tsvetkov, Y. D.: Electron-electron double resonance in electron spin echo: Model biradical systems and the sensitized photolysis of decalin, Chem. Phys. Lett., 110, 67–72, https://doi.org/10.1016/0009-2614(84)80148-7, 1984. a
Müller, L. and Ernst, R.: Coherence transfer in the rotating frame, Mol. Phys., 38, 963–992, https://doi.org/10.1080/00268977900102161, 1979. a
Narkowicz, R., Suter, D., and Niemeyer, I.: Scaling of sensitivity and efficiency in planar microresonators for electron spin resonance, Rev. Sci. Instrum., 79, 084702, https://doi.org/10.1063/1.2964926, 2008. a
Pannier, M., Veit, S., Godt, A., Jeschke, G., and Spiess, H. W.: Dead-Time Free Measurement of Dipole-Dipole Interactions between Electron Spins, J. Magn. Reson., 142, 331–340, https://doi.org/10.1006/jmre.1999.1944, 2000. a
Qi, M., Hülsmann, M., and Godt, A.: Spacers for Geometrically Well-Defined Water-Soluble Molecular Rulers and Their Application, J. Org. Chem., 81, 2549–2571, https://doi.org/10.1021/acs.joc.6b00125, 2016. a
Redfield, A. G.: Nuclear magnetic resonance saturation and rotary saturation in solids, Phys. Rev., 98, 1787–1809, https://doi.org/10.1103/PhysRev.98.1787, 1955. a
Reginsson, G. W., Kunjir, N. C., Sigurdsson, S. T., and Schiemann, O.: Trityl radicals: Spin labels for nanometer-distance measurements, Chem.-Eur. J., 18, 13580–13584, https://doi.org/10.1002/chem.201203014, 2012. a
Rhim, W.-K., Pines, A., and Waugh, J. S.: Violation of the Spin-Temperature Hypothesis, Phys. Rev. Lett., 25, 218–220, https://doi.org/10.1103/PhysRevLett.25.218, 1970. a
Ritsch, I., Hintz, H., Jeschke, G., Godt, A., and Yulikov, M.: Improving the Accuracy of Cu(II)-Nitroxide RIDME in the Presence of Orientation Correlation Evaluated with Water-soluble Cu(II)-Nitroxide Rulers, Phys. Chem. Chem. Phys., 21, 9810–9830, https://doi.org/10.1039/C8CP06573J, 2019. a, b
Sahoo, D., Thiele, S., Schulte, M., Ramezanian, N., and Godt, A.: Polar tagging in the synthesis of monodisperse oligo(p-phenyleneethynylene)s and an update on the synthesis of oligoPPEs, Beilstein J. Org. Chem., 6, 20–24, https://doi.org/10.3762/bjoc.6.57, 2010. a
Saiko, A. P., Fedaruk, R., and Markevich, S. A.: Suppression of electron spin decoherence in Rabi oscillations induced by an inhomogeneous microwave field, J. Magn. Reson., 290, 60–67, https://doi.org/10.1016/j.jmr.2018.02.003, 2018. a
Schmidt, T., Wälti, M. A., Baber, J. L., Hustedt, E. J., and Clore, G. M.: Long Distance Measurements up to 160 Å in the GroEL Tetradecamer Using Q-Band DEER EPR Spectroscopy, Angew. Chem. Int. Edit., 55, 15905–15909, https://doi.org/10.1002/anie.201609617, 2016.  a
Shevelev, G. Y., Krumkacheva, O. A., Lomzov, A. A., Kuzhelev, A. A., Rogozhnikova, O. Y., Trukhin, D. V., Troitskaya, T. I., Tormyshev, V. M., Fedin, M. V., Pyshnyi, D. V., and Bagryanskaya, E. G.: Physiological-temperature distance measurement in nucleic acid using triarylmethyl-based spin labels and pulsed dipolar EPR spectroscopy, J. Am. Chem. Soc., 136, 9874–9877, https://doi.org/10.1021/ja505122n, 2014. a
Sidabras, J. W., Duan, J., Winkler, M., Happe, T., Hussein, R., Zouni, A., Suter, D., Schnegg, A., Lubitz, W., and Reijerse, E. J.: Extending electron paramagnetic resonance to nanoliter volume protein single crystals using a self-resonant microhelix, Science Advances, 5, eaay1394, https://doi.org/10.1126/sciadv.aay1394, 2019. a
Soetbeer, J., Hülsmann, M., Godt, A., Polyhach, Y., and Jeschke, G.: Dynamical decoupling of nitroxides in o-terphenyl: a study of temperature, deuteration and concentration effects, Phys. Chem. Chem. Phys., 20, 1615–1628, https://doi.org/10.1039/C7CP07074H, 2018. a
Spindler, P. E., Waclawska, I., Endeward, B., Plackmeyer, J., Ziegler, C., and Prisner, T. F.: Carr-Purcell Pulsed Electron Double Resonance with Shaped Inversion Pulses, J. Phys. Chem. Lett., 6, 4331–4335, https://doi.org/10.1021/acs.jpclett.5b01933, 2015. a
Stoll, S. and Schweiger, A.: EasySpin, a comprehensive software package for spectral simulation and analysis in EPR, J. Magn. Reson., 178, 42–55, https://doi.org/10.1016/j.jmr.2005.08.013, 2006. a
Tschaggelar, R., Breitgoff, F. D., Oberhänsli, O., Qi, M., Godt, A., and Jeschke, G.: High-Bandwidth Q-Band EPR Resonators, Appl. Magn. Reson., 48, 1273–1300, https://doi.org/10.1007/s00723-017-0956-z, 2017. a
Ward, R., Bowman, A., Sozudogru, E., El-Mkami, H., Owen-Hughes, T., and Norman, D. G.: EPR distance measurements in deuterated proteins, J. Magn. Reson., 207, 164–167, https://doi.org/10.1016/j.jmr.2010.08.002, 2010. a
Wili, N.: Distance measurements between trityl radicals by pulse dressed electron paramagnetic resonance with phase modulation: Raw Data, Processing Scripts, Simulations (Version submitted version), Data set, Zenodo, https://doi.org/10.5281/zenodo.3703053, 2020. a