Articles | Volume 2, issue 2
https://doi.org/10.5194/mr-2-545-2021
© Author(s) 2021. This work is distributed under
the Creative Commons Attribution 4.0 License.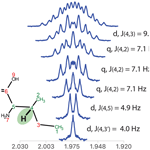 Application of multiplet structure deconvolution to extract scalar coupling constants from 1D nuclear magnetic resonance spectra
Multiplet structure deconvolution provides a robust method to determine the values of the coupling constants in first-order 1D nuclear magnetic resonance (NMR) spectra. Functions simplifying the coupling structure for partners with spin larger than and for doublets with unequal amplitudes were introduced. The chemical shifts of the coupling partners causing mild second-order effects can, in favourable cases, be calculated from the slopes measured in doublet structures. Illustrations demonstrate that deconvolution can straightforwardly analyse multiplet posing difficulties to humans and, in some cases, extract coupling constants from unresolved multiplets.
Received: 18 Mar 2021 – Discussion started: 31 Mar 2021 – Revised: 14 May 2021 – Accepted: 18 May 2021 – Published: 06 Jul 2021
When studying organic compounds, 1D 1H nuclear magnetic resonance (NMR) spectra are often the only, and sufficient, analytical method engaged. All chemists know how to describe simple multiplet structures. It consists of determining their position (chemical shift), integral and, when possible, coupling structure by identifying doublets (d), double doublets (dd), etc. Any serious analysis also includes the values of the scalar coupling constants. Indeed, the multiplet structures provide important topological and structural information on organic compounds and natural products. For example, the presence of a methyl group on a carbon bearing a proton will produce a quartet structure, the conformation of a double bond has clearly distinct geminal coupling constants, dihedral angle influences vicinal coupling constants (Karplus, 1963), etc.
These NMR parameters are not only helping researchers to identify their products, but they also allow reviewers to assess the validity of the argument supporting their identification and benefit the community by providing very precious information when structurally similar compounds are encountered. It is therefore of fundamental importance to provide chemists with the most powerful tools to analyse multiplets, in particular in the cases where the multiplet structure is too complex to be deciphered by visual inspection because of high degeneracy (complex structures such as "dqd"), partial overlap of multiplet structures or second-order effects.
The measurement of scalar coupling constants has been the subject of very intense academic work, either for direct application to 1D spectra (McIntyre and Freeman, 1992; del Río Portilla and Freeman, 1993) or involving the development of NMR pulse sequences producing spectra where coupling constants can be measured easily (Marquez et al., 2001), even in situations of extensive overlap (Prasch et al., 1998; Kiraly et al., 2020; Berger, 2018). The sad observation is that the impact of these developments is extremely limited because the broad community of chemists almost exclusively relies on basic 1D 1H spectra to extract coupling constants. Even if users of NMR were aware of them, they would be reluctant to use experiments going against the common practice in their fields except if they were producing key results – something NMR coupling constants alone rarely do.
We shall report here on a significant improvement of the analysis of 1D 1H spectra based on multiplet-structure deconvolution which will be introduced in a future release of Mestrelab's Mnova software (Mnova NMR version 14.3.0, 2021). This method was originally developed during the 90s to automatize the analysis of multiplet structure from spectra generated by one of the forgotten pulse sequences: the soft-COSY experiment (Emsley et al., 1990). Multiplet deconvolution proved to be applicable to the more "standard" DQF-COSY experiment (Jeannerat, 2000) after simply increasing the direct acquisition time to provide higher resolution – something which was problematic because of the data storage available at that time but which is no longer justifiable. We shall demonstrate the power of the application of multiplet deconvolution outside the world of 2D correlation spectroscopy, where positive and negative peaks coexist and cause specific challenges (Jeannerat and Bodenhausen, 1999), and apply it to the common – not to say mundane – multiplet structure present in standard 1D NMR spectra.
2.1

 Deconvolution parameters

As mentioned above, the simplification of structure is a recursive process where the noise and artifacts tend to increase along the course of the analysis and depend on the quality of the multiplet (complexity, baseline distortion, presence of spurious peaks, etc.).

In order to increase the robustness of multiplet deconvolution, different sets of parameters driving the deconvolution process are tested and their results validated (see next paragraph). These parameters are the threshold for considering a deconvolution to be successful, the threshold for considering the recursive process to be completed, the range of values tested for the roof effect, whether symmetry is applied before starting the analysis, whether symmetry is applied after each simplification, whether the baseline offset is corrected, whether the crude spectrum is used instead of the GSD-based synthetic spectrum (Cobas et al., 2008; Schoenberger et al., 2016), etc.
2.2

 Limit of deconvolution analysis

Obviously, the recursive simplification stops when the result is a singlet. However, the ability of multiplet deconvolution to find unresolved coupling means that simply testing the presence of only one extremum in the result of a simplification step could miss unresolved coupling constants (see Sect. 3.2). Testing values down to 1 Hz seems to be a good compromise for standard 1D 1H spectra. Note that sub-linewidth coupling constants should be used with great care and only to facilitate the process of a structure elucidation process. They should not be used as the sole argument for any key interpretation. Indeed, the behaviour of the deconvolution has not been studied sufficiently to provide a general and safe limit as to how far out it can be carried. A rigorous analysis of unresolved structures would involve a process taking, among other elements, the line shape found in other multiplets into account. When a candidate structure is available, predictable long-range coupling constants should be considered. Depending on the priority of the application, one may favour safety over ambition and decide to ignore any unresolved structure in a "fully automated" mode. Pushing the limit of multiplet analysis could be a user-triggered operation providing visualization tools to assess the validity of the results and correct them if necessary.
2.3

 Validation and post-processing

The validation and ranking of the results of the different methods consist in the measure of the similarity of the starting multiplet to a reconstructed multiplet build using the extracted data. The latter are obtained by starting with the final singlet shape and reintroducing the measured coupling constants including, when relevant, the tilt caused by the second-order effect, and testing the similarity with the initial multiplet. In this work, the starting line shapes were synthetic Lorentzian but allowing more degrees of freedom (i.e. using Voigt, generalized Lorentzian (Schoenberger et al., 2016), etc., line shapes) should improve the match with the shape obtained at the end of the deconvolution.

Finally, a refinement of all parameters, signal intensity, chemical shift, coupling constants, but also roof effect, signal phase, baseline level, and line-shape parameters, could be used to further improve the quality of the validation and take into account context-dependent information such as the degeneracy of the coupling constants.
Multiplet deconvolution has been applied to numerous test spectra. Many multiplet structures which could not be analysed using the GSD peak-based multiplet analysis (reported as "m") were correctly deciphered. It also has a lower occurrence of false positives – the situation where coupling constants are automatically extracted but turn out to be incorrect – thanks to the strict validation process. We shall only present here two typical examples where multiplet deconvolution succeeds while manual analysis would be difficult.
3.1

 Human-unfriendly multiplets

Figure 9 shows a typical example of a multiplet that causes difficulties for human analysis. The partial overlap of three transitions (see arrows) makes the structure difficult to interpret. The destiny of such a structure is to be called the bad name "m" for a lack of courage and proper tool to identify it. Multiplet deconvolution straightforwardly identifies the largest coupling as 9.9 Hz. Similarly, the seeming triplet of the second step (bottom left of Fig. 9) would have been assigned to a t with two equal coupling constants of 5.27 Hz – possibly causing confusion if nothing explains this apparent degeneracy. Here again, deconvolution has no difficulties in resolving overlap and identifies a double doublet with 6.32 and 4.22 Hz – an almost 2 Hz difference for a final line width of 2.7 Hz.

An example of successful analysis of a "dqdd" multiplet structure which was too complex to be analysed manually is shown in Fig. S8 in the Supplement. The six coupling interactions, among which three were degenerate, produced 32 lines with no visible splitting patterns.
3.2

 Unresolved couplings

In carbohydrate chemistry, geminal coupling constants are often too small to be resolved, making it difficult to assign their signals. The analysis of the multiplet structures of Fig. 10 identified a common coupling of 1.2 Hz which increases the confidence in their suspected geminal relationship. In the signal at 3.655 ppm, neither the 2.2 nor 1.2 Hz were resolved in the starting multiplet, providing a good example of the potential of multiplet deconvolution to access useful coupling constants.
The recursive analysis of NMR spectra by multiplet deconvolution demonstrated its ability to extract coupling constants in a robust and fully automated manner. The results are validated when simulations based on the extracted data match the experimental multiplet structures. Additional features including the analysis of structures produced by coupling partners with and of regions presenting signal overlap are proposed with the option of using a graphical interface providing a full user control on the stepwise analysis of multiplet structures.
By reducing the number of unsuccessfully analysed multiplets, multiplet deconvolution increases the information content of NMR spectra at a much lower cost than increasing the field strength of NMR spectrometers. Combined with other efforts aiming at automatizing the analysis of NMR spectra, these methods can significantly increase the quantity and quality of NMR data available to the community. However, this will only occur if researchers make their NMR spectra and extracted data available as supplementary data deposited in public databases instead of providing only crude images of spectra and other non-computer-readable information.
Code and data availability
The software presented here is the property of Mestrelab, but the code for a basic recursive deconvolution of a first-order multiplet with spin partners is copyright free and available as JavaScript node modules on https://doi.org/10.5281/zenodo.4973506 (Jeannerat and Patiny, 2021a). The JCAMP-DX files of the spectra presented in this paper are available on Zenodo (https://doi.org/10.5281/zenodo.4616665, Jeannerat, 2021). They can be visualized with the open-source NMR displayer (also known as NMRium) accessible from https://doi.org/10.5281/zenodo.4973419 (Jeannerat and Patiny, 2021b) and analysed by the basic implementation of deconvolution by clicking on the Ranges Picking button and selecting a multiplet region with the mouse while pressing the shift key.
DJ developed the methodology and wrote the computer code and the manuscript. CC supervised the implementation, suggested the application of several algorithms within the deconvolution procedure and edited the manuscript.
The authors declare that they have no conflict of interest.
Publisher's note: Copernicus Publications remains neutral with regard to jurisdictional claims in published maps and institutional affiliations.
This article is part of the special issue "Geoffrey Bodenhausen Festschrift". It is not associated with a conference.
Damien Jeannerat thanks Felipe Seoane and the Mestrelab team for support, Bob Hanson, Milan Bochud and Théodora Quiriconi for comments on the manuscript, as well as Luc Patiny and co-workers for the cheminfo software environment and assistance for the JavaScript implementation of multiplet deconvolution.
This research has been funded by CDTI, co-financed by the European Regional Development Funds (ERDF) and supported by the Ministerio de Ciencia, Innovación y Universidades, Spain (MIP-20201046 TACTICS).
This paper was edited by Daniel Abergel and reviewed by Eriks Kupce and one anonymous referee.
Berger, S.: A quarter of a century of SERF: The progress of an NMR pulse sequence and its application, Prog. Nucl. Mag. Res. Sp., 108, 74–114, https://doi.org/10.1016/j.pnmrs.2018.10.001, 2018. 
Bothner-By, A. A. and Dadok, J.: Useful manipulations of the free induction decay, J. Mag. Reson., 72, 540–543, https://doi.org/10.1016/0022-2364(87)90158-2, 1987. 
Cobas, C., Seoane, F., and Sykora, S.: Global Spectral Deconvolution (GSD) of 1D-NMR spectra, Stan's Library, Volume II, https://doi.org/10.3247/sl2nmr08.011, 2008. 
Cobas, J. C., Constantino-Castillo, V., Martin-Pastor, M., and del Rio-Portilla, F.: A two-stage approach to automatic determination of 1H NMR coupling constants, Magn. Reson. Chem., 43, 843–848, https://doi.org/10.1002/mrc.1623, 2005. 
del Río Portilla, F., and Freeman, R.: Measurement of Spin Coupling Constants by Decoupling and Reconvolution, J. Magn. Reson. Ser. A, 104, 358–362, https://doi.org/10.1006/jmra.1993.1236, 1993. 
del Río Portilla, F., Blechta, V., and Freeman, R.: Measurement of Poorly Resolved Splittings by J doubling in the Frequency Domain, J. Magn. Reson. Ser. A, 111, 132–135, https://doi.org/10.1006/jmra.1994.1238, 1994. 
Emsley, L., Huber, P., and Bodenhausen, G.: Unraveling Overlapping Multiplets in Two-Dimensional NMR Correlation Spectra by Selective Inversion of Coupling Partners, Angew. Chem. Int. Edit., 29, 517–520, https://doi.org/10.1002/anie.199005171, 1990. 
Huber, P. and Bodenhausen, G.: Simplification of Multiplets by Deconvolution in One- and Two-Dimensional NMR Spectra, J. Magn. Reson. Ser. A, 102, 81–89, https://doi.org/10.1006/jmra.1993.1070, 1993a. 
Huber, P. and Bodenhausen, G.: Bidirectional Deconvolution, an Improvement for the Stepwise Simplification of Multiplets, J. Magn. Reson. Ser. A, 104, 96–102, https://doi.org/10.1006/jmra.1993.1194, 1993b. 
Jeannerat, D.: Progress in cross-peak structure analysis in two-dimensional nuclear magnetic resonance spectroscopy, PhD, University of Lausanne, Lausanne, 133 pp., 1997. 
Jeannerat, D.: Application of frequency domain deconvolution to DOF-COSY spectra for the determination of coupling constants as a tool for signal assignment based on coupling networks, Magn. Reson. Chem., 38, 156–164, https://doi.org/10.1002/(SICI)1097-458X(200003)38:3<156::AID-MRC610>3.0.CO;2-R, 2000. 
Jeannerat, D.: NMR spectra, Zenodo [data set], https://doi.org/10.5281/zenodo.4616665, 2021. 
Jeannerat, D. and Bodenhausen, G.: Separation of overlapping multiplets and contraction of substructures within multiplets using symmetry properties, J. Magn. Reson. Ser. A, 119, 139–144, 1996. 
Jeannerat, D. and Bodenhausen, G.: Determination of Coupling Constants by Deconvolution of Multiplets in NMR, J. Magn. Reson., 141, 133–140, 1999. 
Jeannerat, D. and Patiny, L.: Multiplet deconvolution, Zenodo [code], https://doi.org/10.5281/zenodo.4973506, 2021a. 
Jeannerat, D. and Patiny, L.: NMR dataset, Zenodo [data set], https://doi.org/10.5281/zenodo.4973419, 2021b. 
Karplus, M.: Vicinal Proton Coupling in Nuclear Magnetic Resonance, J. Am. Chem. Soc., 85, 2870, https://doi.org/10.1021/ja00901a059, 1963. 
Kiraly, P., Kern, N., Plesniak, M. P., Nilsson, M., Procter, D. J., Morris, G. A., and Adams, R. W.: Single-Scan Selective Excitation of Individual NMR Signals in Overlapping Multiplets, Angew. Chem.-Ger. Edit., 133, 676–679, https://doi.org/10.1002/ange.202011642, 2020. 
Le Parco, J.-M., McIntyre, L., and Freeman, R.: Accurate coupling constants from two-dimensional correlation spectra by "J deconvolution", J. Magn. Reson., 97, 553–567, https://doi.org/10.1016/0022-2364(92)90035-6, 1992. 
Marquez, B. L., Gerwick, W. H., and Thomas Williamson, R.: Survey of NMR experiments for the determination of nJ(C,H) heteronuclear coupling constants in small molecules, Mag. Reson. Chem., 39, 499–530, https://doi.org/10.1002/mrc.902, 2001. 
McIntyre, L. and Freeman, R.: Accurate Measurement of Coupling Constants by J Doubling, J. Magn. Reson., 96, 425–431, https://doi.org/10.1016/0022-2364(92)90098-R, 1992. 
Metz, K. R., Lam, M. M., and Webb, A. G.: Reference deconvolution: A simple and effective method for resolution enhancement in nuclear magnetic resonance spectroscopy, Concept. Magnetic Res., 12, 21–42, https://doi.org/10.1002/(sici)1099-0534(2000)12:1<21::Aid-cmr4>3.0.Co;2-r, 2000. 
Morris, G. A.: Reference deconvolution, Encyclopedia of Nuclear Magnetic Resonance, 9, 125–131, 2002. 
Morris, G. A., Barjat, H., and Horne, T. J.: Reference deconvolution methods, Prog. Nucl. Mag. Res. Sp., 31, 197–257, 1997. 
Novič, M. and Bodenhausen, G.: Symmetry mapping and recursive reduction of multiplet patterns in nuclear magnetic resonance spectra obtained with two-dimensional correlation and multiple-quantum methods, Anal. Chem., 60, 582–591, https://doi.org/10.1021/ac00157a018, 2002. 
Peng, C., Jeannerat, D., and Bodenhausen, G.: Determination of homonuclear scalar coupling constants by combining selective two-dimensional NMR spectroscopy with convolution and deconvolution: applications to paclitaxel (taxol), Magn. Reson. Chem., 35, 91–99, https://doi.org/10.1002/(SICI)1097-458X(199702)35:2<91::AID-OMR22>3.0.CO;2-B, 1997. 
Prasch, T., Gröschke, P., and Glaser, S. J.: SIAM, a Novel NMR Experiment for the Determination of Homonuclear Coupling Constants, Angew. Chem. Int. Edit., 37, 802–806, https://doi.org/10.1002/(sici)1521-3773(19980403)37:6<802::Aid-anie802>3.0.Co;2-m, 1998. 
Prost, É., Bourg, S., and Nuzillard, J.-M.: Automatic first-order multiplet analysis in liquid-state NMR, C.R. Chimie, 9, 498–502, https://doi.org/10.1016/j.crci.2005.05.012, 2006. 
Schoenberger, T., Menges, S., Bernstein, M. A., Perez, M., Seoane, F., Sykora, S., and Cobas, C.: Improving the Performance of High-Precision qNMR Measurements by a Double Integration Procedure in Practical Cases, Anal. Chem., 88, 3836–3843, https://doi.org/10.1021/acs.analchem.5b04911, 2016.  
Wahab, M. F., Gritti, F., O'Haver, T. C., Hellinghausen, G., and Armstrong, D. W.: Power Law Approach as a Convenient Protocol for Improving Peak Shapes and Recovering Areas from Partially Resolved Peaks, Chromatographia, 82, 211–220, https://doi.org/10.1007/s10337-018-3607-0, 2018.